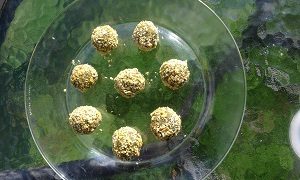 Packed full of nutrients these little power balls will certainly give your energy levels a boost.  Take some for a snack treat or pop a few in your lunch box.  No added sugar but plenty of gorgeous tastiness.  There's natural sweetness from dates and a zingy kick by the lemon zest.
Ingredients
(Makes 12 small power balls)
1 tsp Matcha Green Tea Powder
4 tsp Pumpkin Seeds
3 tsp Hemp Powder
3 tsp Chia Seeds
4 Dates
1 tsp Coconut Oil
5 tsp Desiccated Coconut
1 Lemon Zest
1 Lemon Juice
2 tsp Crushed Pistachio Nuts
Method
Put all the dry ingredients and dates, except the pistachio nuts, into a blender and wiz until finely chopped.
Add in the lemon zest, juice and coconut oil and blend again until a fine paste.
Squeeze into small balls and roll in the crushed pistachio nuts to finish off.
Pop them into the fridge and wait for them to firm up a little………Oh go on then, try one now!
Superfood Chocolate Brownies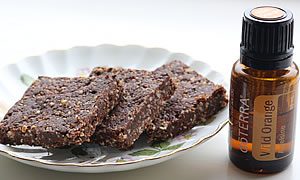 These brownies are so simple to make, taking just five minutes to create a healthy and delicious nutrient packed chocolaty treat. With no added sugar these brownies rely on the sweetness of dates to satisfy any sweet tooth cravings and raw cocoa (cacao) powder to add that chocolaty taste. Superfoods are so called because of their many health benefits and these brownies are loaded with them. From maca powder, a favourite of the ancient Incas in Peru for energy, wheatgrass, natures vitamin pill with anti-ageing properties, to cocoa powder with, among its many properties, the highest antioxidant levels of any food.
Ingredients
200g medjool dates
175g cashew nuts
4 tbsp raw cacao powder
2 tbsp maca powder
1 dsp spirulina
1 dsp wheat grass powder
2 tbsp coconut oil
2 tbsp chia seeds
Optional
If you really want to give these a 'zing' try adding 18 drops of wild orange essential oil to the mix. For obvious reasons it must be food grade oil and I highly recommend dōTERRA oils
Method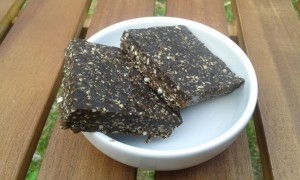 Crush the cashews in a food processor.
Add the pitted dates along with all the other ingredients and blitz until very sticky.
Scoop into a baking tray, press down firmly with a spoon or your hands then put the brownie into the freezer for about an hour.
Remove from the freezer, slice into small squares and serve.
Your superfood brownies will keep in the fridge for about three weeks in an airtight container if you can resist eating them all.
All the ingredients are readily available from your favourite health food store or through me at AromaTree where you can also ask about detailed information on all the Super foods or get in touch.